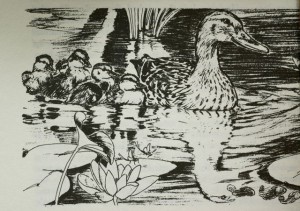 Not since Mark Twain has any river rat captured the essence of the Mississippi River better than the late John Madson, with his 1985 classic, "Up on the River."
Long out of print, the book now is available again, thanks to the University of Iowa Press and Bur Oak Books. It is appropriately subtitled "People and Wildlife of the Upper Mississippi." Illustrations by Madson's late wife, Dycie, interpret the rough edges and strong spirit of the river's inhabitants.
Although Madson reigns supreme as a storyteller, he's also an accomplished historian and wildlife biologist. Thus, "Up on the River" stands out as a both an entertaining read and a fact-filled natural history reference.
Madson, who was a native of Ames before he moved to the banks of the Mississippi north of St. Louis, Mo., doesn't conceal his bias for the river between St. Paul and St. Louis, which he calls "the heart of America."
"It is country that stands up on its hind legs and shows its limestone muscles, rising sublimely over a river that flows in broad running lakes and the tangled multitude of sloughs, cuts and side channels that wander through a fastness of wooded islands and floodplain forest," he wrote.
Madson began exploring the river in the 1950s, during his time as a writer for the Des Moines Register and the Iowa Conservation Commission. His fascination for the Mississippi continued throughout his life. He met dozens of river characters that became the focus of his colorful yarns about commercial fishermen, clammers, hunters, game wardens, poachers, and bureaucrats. And Madson studied the valley's rich and diverse wildlife community – from herons to mussels to muskrats to paddlefish.
Almost three decades ago, Madson also sounded the alarm about threats to the health of the Mississippi: soil erosion, chemicals, pollution, development, industrialization, invasive species. Sadly, most of those problems continue today.
"My real interest is in the physical and biological Upper River, in the vital people whose lives are so closely linked to it, and the dangers that beset what is left of the natural Mississippi," Madson mused.
"And if," Madson declared, "in the examination of these things, I happen to offend certain colonels of engineers, various farmers, industrialists, and proponents of unlimited barge traffic, I can only say that the offense is offered wholeheartedly and in the devout spirit of truculence!"
(OK, here comes the commercial:
To order "Up on the River," email Lstone@alpinecom.net, or call 1-888-807-1828. The price is $20, which includes Iowa sales tax and postage.)