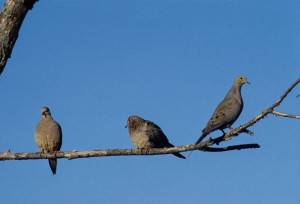 OK.
So the Iowa Natural Resources Commission has voted to open Iowa's first mourning dove hunting season since 1918.
Now comes the REAL challenge!
After decades of rancorous, divisive debate, it's time for people on both sides of the issue to finally demonstrate how much we love the doves we've been arguing about. Can we now refocus our passion, time, and money to work for issues that can actually make a DIFFERENCE to the long-term future of Iowa's natural resources? Let's unite to push for better soil conservation, cleaner water, more wildlife habitat, and funding for Iowa's new natural resources trust fund.
No matter how we feel about mourning dove hunting, we must admit that whether or not hunters kill some doves will not have a noticeable effect on our environment. Most hunters likely will be out of sight and out of mind at remote fields or water holes where the migrating doves congregate. The rest of us can continue to enjoy resident doves we see at our feeders, farm groves, or utility wires.
Instead of celebrating or decrying the dove season, let's resolve to call our legislators to demand that they pay more attention to protecting the soil, water, and wild areas so critical to ALL wildlife – and to Iowans' quality of life.