"There is magic in the feel of a paddle and the movement of a canoe, a magic compounded of distance, adventure, solitude, and peace. The way of a canoe is the way of the wilderness and of a freedom almost forgotten."
Sigurd F. Olson
From The Singing Wilderness,
"The way of a canoe"
A crescent moon hanging over the lake in the pre-dawn. Loons yodeling in the distance. Fish for supper. Geese etching a V above the sunset. A nap on sun-warmed pine needles. Wading knee-deep to ease the canoe back into the lake to conclude a rocky portage. A handful of gorp after battling headwinds.
For 50 years, these feelings and images have drawn me back to northern Minnesota's Boundary Waters Canoe Area Wilderness. More than a million acres of rivers, lakes, Canadian Shield bedrock, spruce and pine forests, and wildness captured my soul on our first encounter at a college field station in the 1960s. We've returned numerous times – the latest in early September.
My daughter, Emily, didn't have to twist my arm very hard when she hinted that it might be nice to have one more paddler with the group she was leading on a short canoe adventure as part of her job (this is WORK?) as naturalist/educator at the Cable, Wisc., Natural History Museum. "Let's go!" I declared.
Besides Emily, I shared lakes and portages with a retired Chicago prosecutor, a couple of retired teachers, a financial software expert, and a 72-year-young woman whose skill, strength, endurance, and good cheer were an inspiration for all.
We canoe regularly on the Turkey and other Iowa rivers – but the Boundary Waters are canoeing at its finest. The Anishinaabe who first plied these waters, and the voyageurs who carried furs and trade goods across the North Country, found the canoe an ideal craft to travel the maze of lakes and streams. Sure, you must carry canoes and gear from lake to lake – across portages that can be steep, muddy, and long – but the waterways ultimately form a Northwest Passage across the continent.
We obviously didn't traverse the continent – only a handful of lakes off the Gunflint Trail northwest of Grand Marais: Poplar, Lizz, Caribou, Horseshoe, Gaskin, WInchell, Jump, and Allen. Each lake has its own character, but several classic traits keep reminding you that's you're in Canoe Country. Scattered white pines escaped logging to stand watch over spruce, balsam, cedar, aspen, and paper birch woodlands. Granite bedrock defines the landscape, with outcrops that lure campers and fishermen. Bunchberries, blueberries, twinflowers, baneberries, and a host of other flowering plants carpet the forest floor.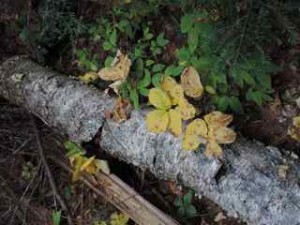 Most lakes sparkle clean and bright (although it's still advisable to filter water you drink to avoid nasty parasites.) Yes, things have changed from the half-century ago when we routinely dipped a cup in the lake and took a cool drink without worry. And we now paddle 40-pound Kevlar boats, instead of aluminum canoes weighing twice as much. (But the traditional birch bark canoes probably weighed several hundred pounds!)
What hasn't changed is the satisfaction of traveling under your own muscle power. You can almost imagine a party of voyageurs singing gaily while they paddle ahead of you – or grumbling profanely as they trot over the portages in a race to shed their two 90-pound packs and get back into the birch bark canoes.
With recognition and gradual protection over almost a century, leading up to wilderness designation in 1964, the Boundary Waters Canoe Area Wilderness has lured generations of adventurers. Attracting 250,000 million visitors annually, it's the country's most heavily used wilderness.
Wilderness? With that many people? Ironic, to be sure. But one reason the Canoe Country endures – despite almost a century of threats ranging from hydro dams to highways to float planes, resort complexes, logging, mining, snowmobiles, and utility towers – is that generations of PEOPLE have come to love its natural wonders. Let's hope that passion helps it endure for generations to come.