It's not just the Independence Day fireworks that set early July ablaze.
Our prairie glows in the morning light. Dew sparkles on the drooping petals of purple coneflowers. Bumblebees probe the golden blossoms of St. John's wort.
Clusters of butterfly milkweeds wave their orange greeting to the sky, attempting to lure an increasingly rare monarch butterfly to stop and lay some eggs.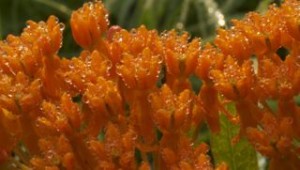 The common milkweeds – which we've let grow as potential monarch habitat in the flowerbeds and among the tomato plants in the garden – perfume the evening with a sweet, powerful scent hardly befitting a "weed."
The Michigan lilies nod from behind the safety of the fence we erected to keep the deer from munching off their buds. A scattering of spiderworts poke up from the prairie – but the deer have thinned their ranks dramatically.
Must be something especially flavorful and juicy in those lily-like buds and flowers.
Spikey heads of rattlesnake master shoot up from tough, spikey leaves. Not your prettiest prairie flower, perhaps – but a great support for spider webs!
Many birds and animals have successfully produced the next generation. Turkey poults – mere balls of fuzz but still able to fly – flit away from the roadside at the hen's warning "putt." Raccoon babies shinny up a tree ahead of mama when a car's headlights betray their late-evening foray.
Just the ears of the twin fawns reach above the grass, as the youngsters bound along behind the doe along the edge of the woods.
A buck – ignoring the antics of the frisky offspring – waits until dusk to cross the open prairie.
His velvety rack already sprouts eight points that loom dark and heavy in the fading light.
A hairy woodpecker – old enough to don a red crest but young enough to want parental care – begs for breakfast from its father at our feeder. A patient rose-breasted grosbeak drops seed after seed into the gaping mouth of his almost-grown baby.
The diligent bluebirds already have raised one brood, and now are nesting a second time. We wish them success – and welcome their garden patrols in search of cabbage butterfly larvae on our broccoli plants.
New life, vibrant colors, and refreshing smells invite us outdoors – despite occasional heat, humidity, and thunderstorms. We tuck away the sights, sounds, smells, and feel of SUMMER to retrieve from the recesses of our mind next January!