Although a blanket of snow smothered the landscape, and the air was calm, a faint yet distinct rumbling rose from the valley and was amplified by the Mississippi River bluffs. As we stood admiring one of our favorite Iowa scenes – the view from Pike's Peak State Park across the Mississippi and up the Wisconsin River – we were captivated as much by the sound as by the vista.
The clink, clatter, and crunch of floating ice clusters marked a temperature-dependent line between solid and liquid. The flowing water – above 32 degrees F – carried along ice floes that had formed when the temperatures fell below 32. And with the temps now in the teens, the new ice probably was winning the skirmish.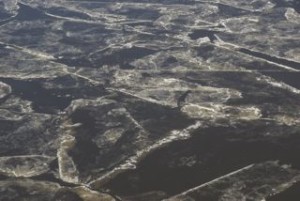 Sheets of ice forming in the big river floated past, on a slow journey downstream to whatever barrier might block their movement and allow them to freeze together and finally build a bridge across the open water. That (relatively!) solid cap may end the clatter of the floating ice cubes, and trap the water's warmth to keep the river liquid underneath.
I still marvel at the high-school chemistry class revelation that water becomes heavier as it cools – then magically turns lighter as it solidifies into ice!
Ice noises aren't the only marvels of winter, though. How about the spectacular sunrises – which happen at a civilized hour so even late sleepers can enjoy them?
And even though it was NOT at a civilized hour, this insomniac caught a few brilliant flashes of meteors between 2 and 3 a.m. the morning of January 4. The Quadrantid shower showed up on schedule near the Big Dipper.
Speaking of celestial sights, Venus and the waning crescent moon have been dancing together just before dawn in the southeastern sky, while a dimmer Saturn lurks nearby.
No lurking for the hungry crows, however. They caw boldly from the dead cottonwood, then swoop in for a few morsels of leftovers from the bone pile we left them after we cut up some venison from the season's harvest.
While friends may groan about the cold (not really!) and the deep (not so much!) snow, I try to appreciate the joys of winter: skis squeaking and swishing on fresh powder, a cup of hot chocolate afterwards, watching a cozy fire in the woodstove, spotting a rough-legged hawk on its visit from the north.
Enjoy it while we can! The days already are getting longer, and spring is on the way!