The first snow.
It's so quiet . . . and white . . . and wild . . .
When the storm finally ended, it left a foot of sticky clumps to bend over the prairie grasses, make giant ice cream sundaes out of the deck furniture, and coat the tree limbs like frosting.
A puzzled junco pondered a mound that looked like cotton candy where the tray of sunflower hearts had been.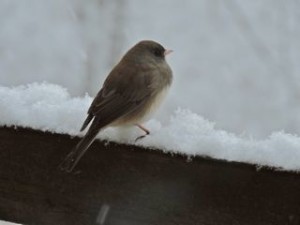 About the only other movement was the pair of bald eagles circling overhead, surveying the aftermath of the storm that had buried any potential breakfast morsels. (Yesterday's road-killed raccoon had long since been devoured!)
I slipped on my skis, eager for the first outing of the year, and expecting to glide over the fluff.
But I quickly realized that "gliding" would be a fantasy in the sticky, shin-deep blanket of wet snow. Shuffling probably better described my gait, as I set out to test the trails that I'd hurriedly mowed when I heard the forecasts and weather advisories.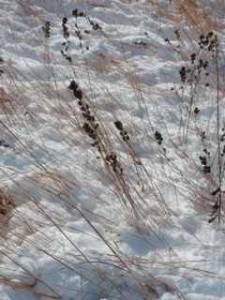 I paused often – allegedly to shoot photos of the snow-covered prairie, half-buried trees, and tree bark mottled with splotches of white. OK, I confess: the frequent photo-opps also were necessitated by my fatigue from breaking the trail through the deep, damp snow.
An open path I'd lain out through a woodland edge now seemed more like a tunnel, with snow weighing down the cedar branches, and clinging to the persistent leaves of the pin oaks. I ducked low to avoid bumping branches that threatened to dump mini-avalanches down my neck.
Even more than the white blanket that engulfed the landscape, I was struck by the QUIET: No traffic on the distant highway, no jets high above, not even any birds calling. The deep snow effectively muffled the noise.
Finally, a sassy crow broke the silence, and another member of the flock joined the debate.
Perhaps the birds had sensed the coming breeze. It "whooshed" faintly through the bare treetops, sending plops of snow plummeting from the branches, and a cloud of white swirling through the gray branches.
I headed home to refill the bird feeders, rest my out-of-shape skiing muscles, and to remind myself that it's still a whole month until WINTER!