The first juncos from the north arrive as the last tardy hummingbird heads south.
Orange maples peek above the morning fog that hangs in the valley, beckoning paddlers to float the low, clear, cool waters of the river.
The huge, bright harvest moon hovers near the eastern horizon at twilight, and lingers in the west at sunrise.
Crisp, bright apples hang heavy on the tree, tempting the deer that make nightly patrols in search of the tasty windfalls. You can see a fresh scrape where one buck has pawed the ground, left his scent, and nibbled an overhanging twig to mark his territory.
Hardy blooms still dot the prairie: blue tints of the stiff gentian nestle deep in the dense foliage; clumps of purplish New England asters contrast with the bronze of Indiangrass; golden sunflowers persist for weeks.
Heeding the forecast of frost, you pick the last of the garden peppers and green beans, and tuck a tarp over the late-planted lettuce bed. Although you've already dug the potatoes, pulled the onions, given up on the zucchini, and cleared away the tomato vines, you still hope for a few more garden goodies before a real freeze.
In the Mississippi backwaters, flocks of green-winged teal, along with a scattering of pintails, mallards, and widgeon, dabble in the shallows to refuel for their migration on southward.
A few katydids continue to call, but the evening chill slows their calls to barely perceptible "screeps."
On sunny afternoons, the bright-yellow cottonwood leaves rattle in the October breeze. But even when the clouds roll in and showers dampen the woods, the leaves still glow through the sheen of moisture.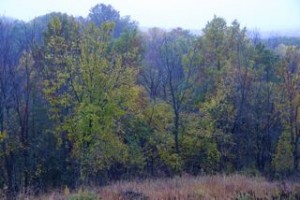 The forest floor glows, too, as aspen and maple and hickory leaves drift down onto the crunchy layer of litter. A closer look reveals several clumps of Indian pipe, a parasitic plant that lacks chlorophyll and therefore must get it nutrients from fungi in the soil.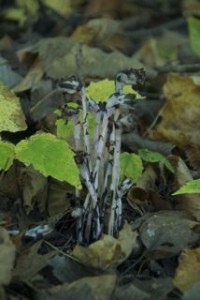 From frosty mornings to sun-bleached afternoons to diamond-studded night skies, it's hard to beat the beauties of an Iowa October.