As I set off along our ski trail in the face of a March snowstorm, it suddenly hit me that my inner self probably was searching for spring.
It's been a great winter for skiing, with fresh, powdery snow several times each week. There seldom was a worry of getting over-heated, because temperatures struggled to get above zero.
But we'd begun to yearn for the cardinal's "cheer, cheer" to signal the lengthening days that mean winter is on the wane. And the river's usual happy gurgle had been locked under a solid tomb of ice for weeks.
Then I pondered a couple of positives, starting with that long-awaited cardinal's whistle. The Decorah bald eagles, who've become online celebrities, have laid three eggs! And a pair of coyotes frolicking on the distant hill in mid-afternoon suggested that love is in the air. I realized that I didn't have to search as far as I thought for a taste of spring.
The deer herded atop the hills just before sunset probably were hungry – but the snow on the ridges had settled enough that they were able to paw down to find a few nibbles of alfalfa or kernels of corn. Their coats still looked gray and healthy – although many of the whitetails have no doubt been burning up their fat reserves on 20-below nights.
On one sunny afternoon, the river magically reappeared to trace braided channels through the ice and snow. (Winter obviously viewed this artistry with disdain, however, and quickly produced another sub-zero blast and several inches of snow.)
Still, winter is no match for the March sun. Within a day or two, the latest drifts had turned sticky and begun to settle. Soon, you could almost see over the roadside piles – rather than feeling like you were driving through a tunnel.
The white-shrouded landscape hardly looked "springy." But I knew from the moisture-laden curtain of white haze that the snow really was melting.
The relative warmth – perhaps combined with day length – lured a variety of critters from their winter beds. The dead skunk alongside the road may have been too groggy to watch for traffic. A scrawny raccoon risked cold feet to visit the base of the bird feeder in search of a few spilled sunflower seeds. An equally-scrawny opossum foraged beside the 'coon.
Wild turkeys, which should begin their spring gobbling almost any day, ventured boldly close to a farmstead – perhaps desperate for some high-energy grain to supplement their dwindling supplies of buried acorns.
A bald eagle opportunistically picked chunks of meat from a small, road-killed deer, almost oblivious to passing traffic on the secluded gravel road.
When the afternoon temperature finally topped 40 degrees for what seemed like the first time in weeks, a flock of robins swooped into the flowering crab for a feast of tiny, shriveled apples. Will there be plenty of berries to tide the birds over until the ground thaws enough to bring the worms to the surface?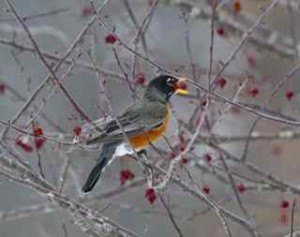 The wintering juncos and rough-legged hawks haven't left Iowa, our northeast Iowa hills are still white, and I've still got a warm fire in the wood stove. But take heart! It's March – and the worst (we hope!) is behind us.