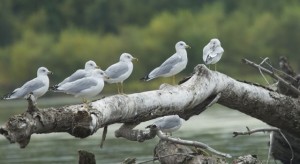 Fog drifts above the valleys at dawn.
The gray wisps sparkle in the first rays of sun, and frame the golden glow of the distant cottonwoods, maples, and oaks.
Dew gilds the purple asters and bronze Indiangrass in the prairie.
Goldfinches at the feeder chatter as they have all summer – but the males have shed their canary-yellow breeding plumage, leaving them almost indistinguishable from the olive-green females.
A flock of cedar waxwings swoops down on the flowering crab, perhaps attracted by the tiny, bright-red fruits. But the birds don't stay long. The miniature apples will be much more palatable after a hard freeze has softened them.
A few turkey vultures still soar on the thermals as the day warms – although many of the buzzards' kin may already have begun drifting southward.
An osprey wheels over the river, as they regularly seem to do only in the fall, and only for a brief visit.
Warm afternoons bring a flurry of insects, many of which may be enjoying a last hurrah before their short lives end with the approaching cold.
A monarch flutters in search of goldenrod blossoms.
Grasshoppers cling to the withering green beans in the garden.
Ants, bees, and bald-faced hornets feast on the sweet juices of the pear and apple cores atop the compost pile.
An occasional katydid tries to strike up a tune, although its efforts may be muted by the cool of the evening, when the sinking sun loses its power.
And then come the long, lingering, lovely sunsets.
Purples and oranges and pinks and reds paint the clouds and even the jet contrails.
Just as you think it can't get any better, the moon creeps above the horizon to prolong the tranquil end to a radiant autumn day.