Quetzals. Crocodiles. Volcanoes. Macaws. Iguanas. Rain forests. Monkeys. Waterfalls. Ants. Agoutis.
Diversity only starts to describe Costa Rica. A recent visit there left us in awe at the array of life in this wonderful world.
Retired animal ecology professor Jim Pease led our little band of 10 Iowa curiosity-seekers on a trip similar to those he's hosted for ISU students for two decades. Although we weren't tested on his teachings and didn't get academic credit, we relished the continuing education.
Surrounded by towering trees on a rain forest trail, we glanced down to see a fascinating line of green leaf fragments that seemed to flow across the path. On hands and knees, we marveled at the parade of leaf cutter ants carrying bits of leaves larger than the insects themselves. Overhead, the perforated tree leaves betrayed the ants' harvest site. But the ants don't eat the leaves; rather they "farm" them by storing them at their nests, then feasting on the fungi that grow on the leaf pieces they gather.
The number of life forms of the forest is almost unfathomable. Some biologists estimate that each tree may host another 100 species of plant life, ranging from vines to mosses, lichens, and epiphytes (plants that use a host plant for support, but receive their nourishment from the air or other surroundings.)
Birds – hundreds of species and uncountable individuals – flitting through the jungle are often unseen in the dense vegetation. In 10 days, our group tallied nearly 200 bird species, from drab big-footed finches to the absolutely spectacular scarlet macaws. For those who kept such lists, most of the birds were "lifers." But it's not enough to just check off another name when you see an emerald-green resplendent quetzal, a turquoise green honeycreeper, or a bulky-beaked boat-billed heron. You first must catch your breath, blink your eyes, and wonder at the evolutionary chain that has led to these avian phenomena.
Costa Rica boasts more than its share of marvelous plants and animals – in part because it lies at the crossroads of north and south, east and west. A mere three million years ago, the land pushed up to separate the Atlantic and Pacific Oceans. And that land became a corridor for the mixing of flora and fauna from the continents to the north and south. Add the elevation differences – from sea level to more than 12,000 feet – and Costa Rica can claim 12 different life zones providing habitats for countless unique species. By some estimates, the country and its Central American neighbors may contain up to 50% of the planet's biodiversity.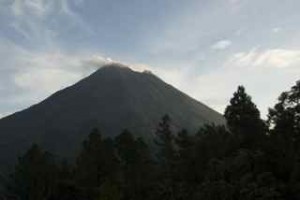 We visited a tropical dry forest, tropical moist forest, premontane moist forest, montaine rain forest, and sub-alpine paramo. Our heads spun at the mind-boggling variety of plants we encountered from the ocean shores, to the cloud forests, to the mountain valleys and ridges. Equally diverse bird communities thrived in these regions, as well.
Many Costa Ricans have recognized the attraction of these resources to tourists and biologists from throughout the world. Eco-tourism has become big business. The country also claims to have protected from 12 to 24% of its land in forests and national parks – although "protection" may be left to private individuals who still own the land.
At Savegre Mountain Lodge, a 400-hectare mountain valley hide-away owned by the Chacon Zuniga family, we explored a tropical cloud forest. Several waterfalls interrupted a creek that tumbled through the canyon. Some of the trail network required rope hand-holds to stay on the steep paths. Other paved walkways wound through meticulously groomed gardens with flowers, shrubs, and feeders to attract hummingbirds, woodcreepers, tanagers, and dozens of other birds.
We Iowans sweat profusely in the heat and humidity, huffed and puffed as we hiked the winding mountain trails, and became acutely aware of being outsiders in a country where the main language is Spanish. Looking across a valley at a towering volcano emitting a wisp of steam, we knew we'd left the land of the tallgrass prairie.
The grunts and growls of howler monkeys rolled down from the treetops at several sites, and iguanas more than three feet long seemed oblivious to people's stares. Our sharp-eyed guides also spotted several species of tiny poison-dart frogs and lizards.
We also found some familiar "faces" among the unusual surroundings. Plants we keep in our homes – philodendrons, bird of paradise, begonia – grow throughout the forest. Along with the scores of new birds, we saw green herons, great blue herons, snowy egrets, Wilson's warblers, black-and-white warblers, red-tailed hawks, turkey vultures, and other birds that visit Iowa. The coatimundi scrounging for scraps under a bird feeder reminded us of our pesky raccoons. And oaks dominated some parts of the mountain forests.
We're accustomed to Iowa roads, most of which follow mile-square grids, with relatively gentle hills. In Costa Rica, many roads are cut into mountainsides. Randall, our bus driver, seemed unfazed by the winding, narrow gravel, lack of guard rails, playing "chicken" with big trucks, dodging motorcycles, and avoiding pedestrians.
In San Jose and a couple of other cities, Randall expertly maneuvered the bus through narrow streets, which were jammed with people, taxis, and parked cars. Iron bars, fences, and razor wire guarded businesses and residences – perhaps as much because of custom as for protection. For better or worse, Americanized businesses – McDonald's, Burger King, Wal-Mart, automobile dealers – were scattered among the local shops.
Out in the countryside, coffee plantations, banana groves, and fields of pineapple reminded us that we were in the tropics. Brahman cattle grazed in pastures. Many gardeners raise tropical plants for the greenhouse trade.
A spectacular trip, to be sure. But we savored another northeast Iowa autumn – with yellow walnuts and maples, red Virginia creepers and sumac, purple asters and gentians, the bronze-purples of maturing prairie grasses, and the spectacle of migrating raptors and tundra swans – I feel at home.