Majestic pines. Pristine lakes. Rugged portages. Eagles and loons and ravens and gray jays and red-breasted nuthatches. Billion-years-old bedrock and cliffs and boulders. The satisfaction of traveling under your own power, staying dry and comfortable in a tent you pitched yourself, and eating around a campfire.
A recent canoe trip to Minnesota's 1.1-million-acre Boundary Waters Canoe Area Wilderness (BWCAW) reminded Margaret and me of just how much we love that "canoe country," and how much it has shaped our lives.
We first explored the Boundary Waters as students at a Coe College field station on Basswood Lake in the mid-1960s. It was there that I met Sigurd Olson, well-known writer and wilderness advocate whose work helped inspire me to choose a career in conservation journalism. Coincidentally, it was at the field station that I discovered "A Sand County Almanac," that classic work by Iowa native Aldo Leopold, whose timeless writing and philosophy remain a foundation of the environmental movement.
But the BWCAW did not fade from our lives, unlike advanced calculus and some other college classes. Margaret and I honeymooned there, and have returned regularly – either by ourselves or with friends – for half a century.
In graduate school, and later as a journalist, I researched and wrote about the turbulent history of the BWCAW, and the many controversies that shaped it: road-building, logging, prohibitions on float planes, wilderness designation, snowmobiles, the protection of wolves, outboard motors, resorts, a ban on bottles and cans, limits on the number of visitors. I also was lucky enough to have a few more encounters with Sigurd Olson, who continued to advocate for wilderness and the canoe country throughout his life.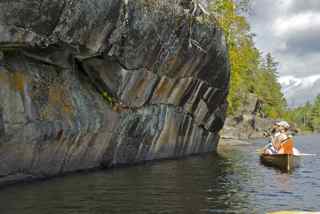 A fascination with the region also led Margaret and me on a 109-day adventure in 1971. We retraced part of the route of the voyageurs and fur traders, who traveled the historic water routes in the late 1700s and early 1800s.
Our children could not escape our fondness for the Boundary Waters. A couple of family vacations included stays on the fringe of the wilderness area; canoe country art adorned the walls of our home; and our shelves were lined with books about the north country.
As a Boy Scout leader, I helped guide a dozen young men on trips into the BWCAW. Several – including our son, Andy, have returned on their own.
But the passion for wilderness and the BWCAW especially caught fire with our daughter, Emily. After an introductory trip with us and friends while she was still in high school, Emily found ways to return again and again. She's guided college groups into the BWCAW, worked on a maintenance crew to repair campsites and portages, studied and written about canoe country geology and botany, and taught a wolf ecology class. She's now naturalist/education director at the Cable (Wisconsin) Natural History Museum, where she has led several excursions into the BWCAW. And Emily (like her parents!) owns two canoes, which have floated in more than their share of canoe country waters.
It was Emily's offer of guide service that enticed us into the BWCAW this year, along with good friends Marlene and Bruce Ehresman, of Ames, and Joann Malek, of Trego, Wis.
To be sure, we paddled Kevlar canoes, stored food in a critter-proof plastic pack, and kept warm with polypropylene long-johns. But we hiked over portages worn smooth by centuries of moose and deer hooves, wolf paws, and Ojibway or French-Canadian moccasins. We drank from and fought head winds on the same lakes the native people and European invaders have plied for generations.
And we wrestled with the notion of the eternal vigilance that has been and will continue to be needed to keep the canoe country a wild place where future generations can go to restore their connection to the Earth. The BWCAW exemplifies a spirit of wilderness whose very existence can enrich our lives – even when we're not physically on a portage, campsite, or lake. The spiritual magic shapes our bodies and our souls.
Note: The BWCAW faces yet another threat in the form of a proposal to allow sulfide- ore copper mining in the watershed of the wilderness. For more information, visit https://www.savetheboundarywaters.org/